We welcome you to a former winery farm from the 14th century
Apartments and guest rooms with lots of charm in the South of France
A former winery farm in the South of France
The Mas de la Rivoire is a former winemakers' farm in the South of France, built around the 14th century. It is located in the village of Villevieille (Gard) on the heights of Sommières, a historic and tourist-friendly town. On our four-hectare property with its own groundwater source, we offer our guests stylish double rooms and spacious apartments in the historical building. From the cozy courtyard you can reach the individual accommodation via small stairs. The imposing "La Voûte", a traditional vaulted cellar with a splendid chimney, serves as a common living space. We also have a fitness and seminar room as well as a treatment room. A magnificent stone built swimming pool, embedded in a Mediterranean and child-friendly garden, invites you to linger. The historic estate is surrounded by a beautiful natural landscape with vineyards and olive groves, thyme and lavender fields, wild rosemary and truffle oak forests.
Away from the everyday hustle and bustle, you will find plenty of peace and relaxation on the Mas. In the midst of a magnificent natural landscape and yet not far from cultural heritage sites from the past, as well as spectacular sights in the south of France; such as the Pont du Gard or Avignon, a former papacy and the Roman city of Nîmes. In less than half an hour you can reach the Camargue, the Cevennes and the dynamic Montpellier as well as the magnificent beaches of "La Palavas les Flots", "La Grande Motte" and "Le Grau-du-Roi".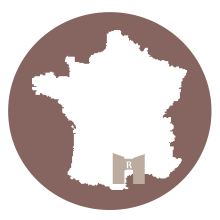 Calm or bathing?
Hiking or horse riding?
Sea or mountains?
Wine or olive oil?
You have the choice!
Your holiday home in a spacious and quiet domain
An authentic and former winemarkers' farm
A magical place to experience and enjoy in the South of France
Spend unforgettable holidays in Occitania
For a short break or for longer holidays, alone, for two or for the whole family
Would you like to relax for a weekend or do you want to discover and enjoy with your family the South France? Whether it is at the hotel's own swimming pool, on walks, bike rides or on horseback in the Camargue? Are you looking for a comfortable apartment or a guest room? With a lot of variety and fun with games and sports in the Gard and Herault?
The Mas de la Rivoire has everything you need to enjoy a relaxing and active holiday. A historic property with lots of charm and pleasant comfort in a splendid region surrounded by vineyards and olive groves. Not far from the sand dunes of the Mediterranean and the foothills of the Central Massif.
A romantic place for an unforgettable wedding
We welcome you to our historic property
Celebrate parties on the Mas de la Rivoire
Weddings, birthdays, seminars: the Mas de la Rivoire a place to celebrate festive occasions
We are happy to accommodate you at our Mas for your most beautiful day of life. Pure romance in a unique property.
The location and the beauty of the Mas de la Rivoire, together with the variety of accommodation facilities and our personal advisory service, make your event an unforgettable experience.
We also have interesting opportunities for business purposes such as seminars or trainings. Get in touch with us. We are happy to help.
Some pictures of the community facilities