Swimming, Horseback riding, Hiking, Cycling, Pont du Gard, Camargue, Cevennes, Mediterranean, Nîmes, Montpellier
Discover the region of Occitania in the south of Mas de la Rivoire
Do you prefer to spend active holidays or are you looking for peace and quiet? The Mas de la Rivoire is the starting point for your holidays, we offer charming apartments and guest rooms. We look forward to hearing from you.
Activities from The Mas de la Rivoire
To offer you an unforgettable holiday in one of our apartments or guest rooms, we offer you at the Mas de la Rivoire:
Relaxing holidays in a former Provencal vineyard: unique cosy, shaded courtyard, free wifi lounge, common room, huge fireplace, living areas maintain a comfortable temperature thanks to the thick stone walls,
a stone built swimming pool with countercurrent system,
a pétanque court,
a fitness room,
nature walks or walks from the Mas, amidst vineyards, olive groves, pine trees, truffles, lavender fields, thyme and old Roman roads lined with dry stone walls,
adventurous horse-riding excursions: We organize horse-riding trips in the Camargue, private riding lessons or take a trip with our horses and ponies,
beautiful cycling tours for every level. Share with us, your passion. Whether as a single person or a group. We will be pleased to accompany you and show you the most beautiful spots around our Mas. We also know the legendary Mont Ventoux,
various e-bike or MTB excursions. We know the most beautiful singletrails or more leisurely trips on the «green way», an old railway line, from Sommières to Nîmes. The nature paradise in the Camargue and the Cevennes also offer many possibilities,
sensual wine tastings directly on our Mas. We organize well-known wine-growers «sur place» and let you discover the most beautiful wines. Visit of the best wineries from our region, such as Château Puech Haut, L'Hortus, Château de Lascaux, Abbaye du Fenouillet or Domaine Costes Cirgues,
exciting olive oil tasting: Experience a sensory excursion in the famous olive mill of Villevieille. We know where the best olive oil is,
relaxing yoga and fitness classes, health or relaxation massages,
various theme courses, whether for yoga, fitness, racing-bike, mountain-bike, e-bike, dance or others. You find more infos under our special offers.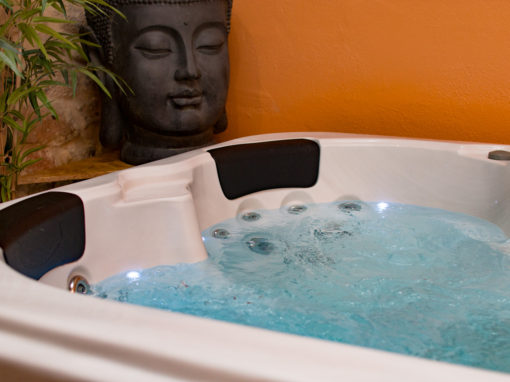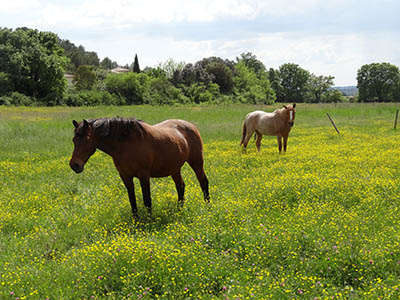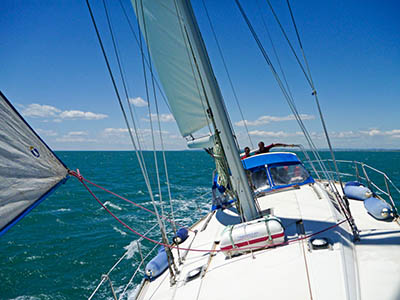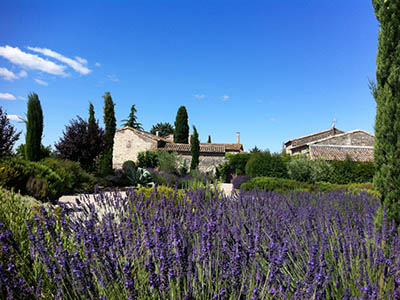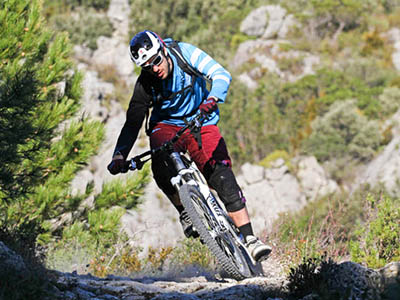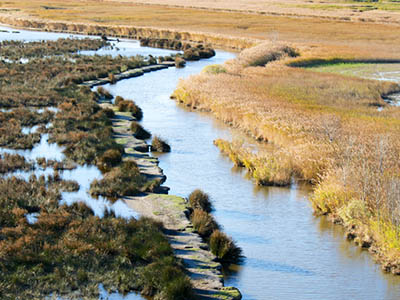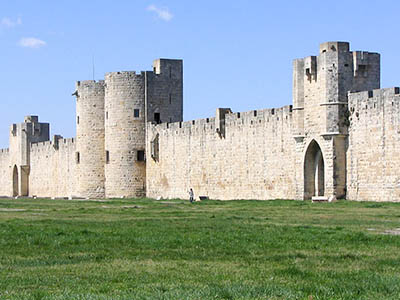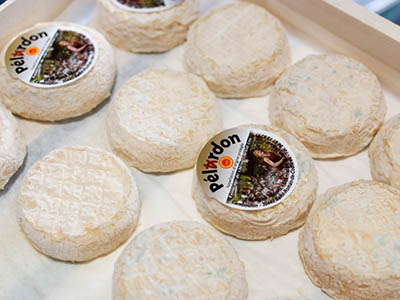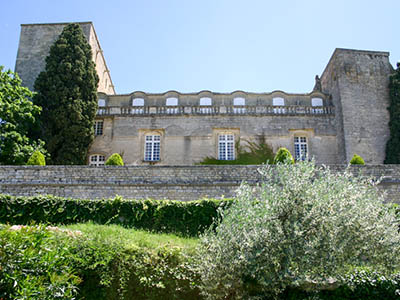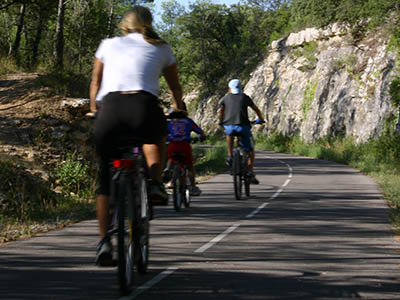 Varied excursion possibilities around the Mas de la Rivoire
The Mas de la Rivoire is right in the middle. Within an hour car drive there are beautiful natural and cultural sights in Occitania to discover and to visit. We know them and can make recommendations. We also know where to find trendy restaurants. Immerse yourself in the gastronomic and cultural diversity of our region, you will be delighted.
Quality of life and tradition: between Provençe, Camargue and Cevennes
Our apartments and guest rooms are located 2 km from Sommières. This beautiful mediaeval town is known for its typical weekly market of the week in France and its night market in summer. Sommières is one of the three main commercial and tourist sites in the Gard department, next to Uzès and Aigues Mortes,
In Sommières and in the surrounding municipalities, the spectacular Camargue festivals "la Bouvine" are held regularly. This traditional bull and horse spectacle is a highlight of Sommières,
Corridas are also offered in Nîmes (20 min.) And Arles (40 min.).
Sports, leisure, family visits
The green path, "la voie verte", is a 20 km long, former railway line and starts from Sommières from the direction of Nîmes. It is a paradise for walking, skating and cycling, away from hustle and bustle and cars,
The Vidourle is a coastal river crossing Sommières and the entire region of Occitania from the Cevennes to the sea. The Vidourle offers a refreshing cooling in the summer and is ideal for canoeing, kayaking, canoeing and stand up paddle trips,
The magnificent beaches of "Palavas les Flots", "La Grande Motte" and "Le Grau-du-Roi" can be reached in about 35 minutes,
The "Roc de Massereau" adventure park is a 10-minute drive from the Mas de la Rivoire,
Adrenaline – pure: gorgeous climbing garden "Via Ferrata" directly above the Vidourle in St. Seriès,
For the Amusement Park, the Center de équestre Maruéjols is a quarter hour from us and a little further towards Saintes-Marie de la Mer and the Mas du Daladel,
Fantastic hiking trails lead directly from the Mas de la Rivoire to the surrounding area. For bathing enthusiasts, numerous rivers are the ideal strolling place.Transport in nature,
There are various tennis courts in Sommières just on the doorstep,
High class golf courses in Nîmes Vacquerolles and Campagne, Golf Club d'Uzès, Golf de la Grande Motte, Golf de Montpellier Massane,
The Pic Saint -Loup can be climbed comfortably or more sportily with the Festatrail,
The Demoiselle cave is one of the most magnificent caves in our region at all,
The village of Saint-Guilhem-le-Désert, with its monastery and the Pont du Diable, is one of the most beautiful villages in France,
The Haribo Museum in Uzès (40 min.) Is a must for large and small gourmets,
The famous bamboo garden in Anduze (40 min.) With the nostalgic steam train to the Cevennes is a wonderful day trip.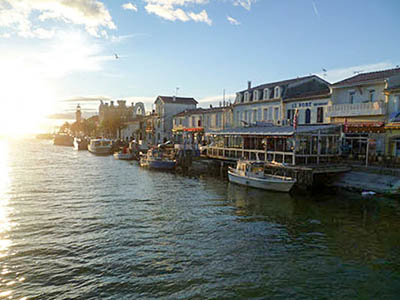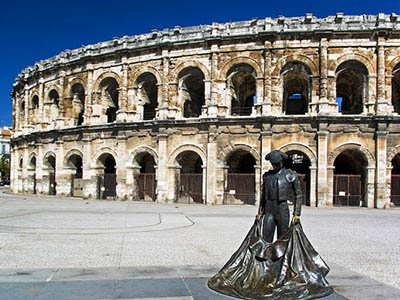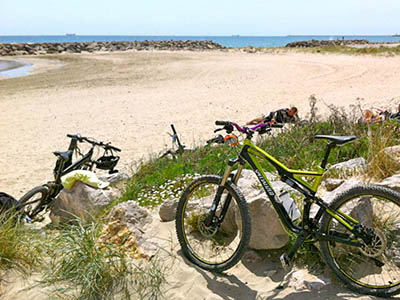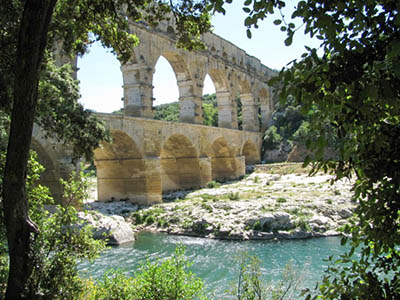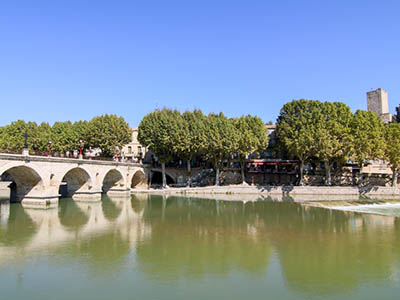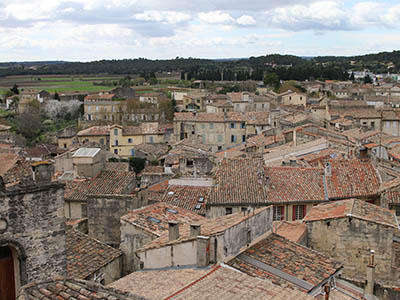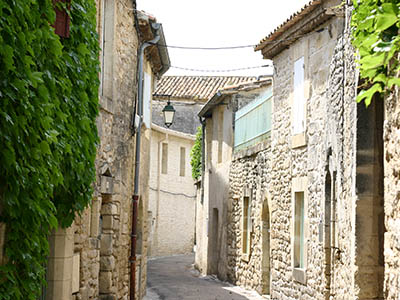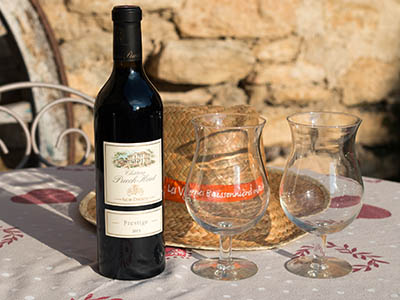 Cultural heritage & history
You will never be bored. The historical region offers a variety of interesting cultural sites from the past to discover.
A few hundred meters from the Mas de la Rivoire is the excavation site of a prehistoric village of Fontbuisse,
In the opposite direction the castle of Villevieille, in a wonderful panoramic position above the medieval Sommières, with its Romanesque sights,
The medieval town of Nîmes (20 min.), Montpellier (35 min.) Uzès (40 min.) And Arles (40 min.) are also famous,
In addition, many smaller and larger villages such as Anduze (45 minutes), Sauve (20 minutes), invite you to stroll along the Cévennes or the sea in the unique walls of Aigues Mortes (45 min.),
Classified as UNESCO World Heritage the Pont du Gard and its dedicated site (museum) are less than an hour's drive from our estate.
Aromas, local products for degustation
In addition to beautiful wines and olive oil from our region, there are Mediterranean specialties and delicacies from the Cevennes to the Camargue to discover. We work closely with local producers, the finest restaurants and the best wine and olive growers with a long tradition.
Let yourself be carried into the sensory system of the fruity green Picholine oil from the award-winning olive oil mill of Villevieille,
Taste the most famous cuvées of the Grenache, Syrah and Mourvèrdre grapes, with our partners such as the Bergerie du Fenouillet, the Domaine Costes Cirgues, the Mas Granier, the Château Puech Haut, the Domaine l'Hortus or the Château De Lascaux uva,
Immerse yourself in the colourful and fragrant weekly market of Sommières (2.5 km). Indulge in oysters from Bouzigues or try the pelardons of a fine goat's cheese from the Cevennes and enjoy an aromatic Viognier white wine,
We are pleased to offer you a place in one of our favourite restaurants in Sommières, such as Sansavino, Nulle Par Ailleurs, Korrigans du Vidourle, Lou Caleou Next or l'Auberge du Pont Romain,
Gastronomical highs in Nimes with the famous «Alexander» of Michel Kayser or Restaurant of Jêrome Nutile and brand new «the terminal» or «Le Carré Mer» of brothers Pourcel in Montpellier.